I qualified in 1999 and am registered with both The South Africa Reflexology Society and The Allied Health Professions Council of South Africa. I have continued my studies, which include Reflexology on the face and hands, Language of the Feet and Pet Reflexology as well as various continued professional development courses run by the International Academy of Reflexology and Meridian Therapy. I am also qualified in Auricular (Ear) Reflexology and Dien Chan Facial Reflexology, which originates from Vietnam and is the most wonderful modality.
What is Therapeutic Reflexology?
Reflexology is believed to originate from China over 5000 years ago. Pressure therapies were used to balance energy in the body and aid in self-healing.  Egyptian tombs show paintings of reflexology being practiced on individuals over 5000 years ago.
Channels of energy, called meridians, run through the body like mini highways. When these channels become congested or blocked, dis-ease and discomfort are often experienced.
Reflexology involves applying firm pressure on specific reflex points on the feet. This assists in unblocking the meridians and corresponding organs, allowing the energy to flow freely and toxins to be removed easily. This enhances both the physical and emotional functions of the body and assists in self healing and boosting of the immune system.
What to expect at the treatment
Please wear loose clothing that you are comfortable in. You'll be removing your shoes only, so if you do have pantyhose or socks on, you'll need to remove them.
Please don't worry about the state of your feet, they will tell me all I need to know. So please avoid having a pedicure before your first treatment. I need to see everything. Thereafter, neatly trimmed toenails and well groomed feet are always appreciated.
I also clean your feet before the treatment, so don't worry if you've worn sandals all day and they are a little dirty.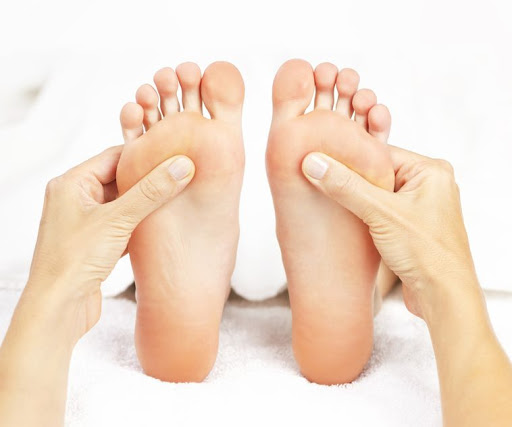 What to expect after the treatment
You may experience tiredness, nausea or a headache after the treatment. Needing to use the loo more frequently is also very common after a treatment. This is perfectly normal and a good sign as the body is beginning to release the toxins and start the healing and re-balancing process.
I usually advise clients not to plan a hectic night out after a treatment, you do need to rest and allow your body to recharge and heal.
Appointments
Appointments need to be made 4-5 days in advance.
Please don't be late as this disrupts appointments after you.
Cancellation Policy
Due to numerous late and no-shows I have to charge you for appointments not cancelled within 4-5 hours of the time. Obviously circumstances are different and if you have an emergency you will not be charged.
Registration numbers:
PCNS NO: 0231282
AHPCSA NO: A7491